Much has been written recently, and deservedly so, about the end product: Goldcrest Post's stunning new Dolby Atmos Premier theatre in the heart of Soho, London.
All well and good, but here at Resurface, we're keen to explore the story-behind-the-story.   Construction of a huge mix stage is complicated enough in an empty corner of a Burbank backlot.  Attempting to do the same under a Central London street, working around existing businesses, is an exponentially bigger ask.  For those who aren't aware, Soho is a vibrant cultural quarter; busy by day with the comings and goings of London's media industry.  By night and into the small hours, it's every bit as busy.  Generally with the comings and goings of London's media industry.
At every step there are choices to be made; big ones, make-or-break, no-turning-back, shit-or-bust ones.   We talked to Goldcrest's Simon Ray about some of those choices, and what guided his thought process.
RESURFACE:  First things first, if we go back to the beginning of this process in 2013, what was behind the decision to go for it, to rip out a big, busy room and excavate under Dean Street – for well over a year – to make an even bigger one right where it stood?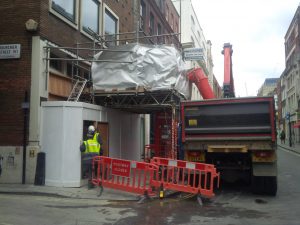 SIMON RAY:  A combination of factors.  What we had was a really good film mix theatre, which did particularly well with mid-budget features and temp mixing on the bigger studio productions.  Over time we saw that mid budget market decline.  The work was polarising either into low budget and 'equity deals' or the bigger-budget studio features.  We were consistently booked for the temps on those big shows, but we found we weren't getting the final mixes.  So the choice we had was polarised along the same axes: either build a number of smaller rooms, or one very big one.
R:  But presumably at that point – whichever way you went – you were closing your biggest room for a very long time and setting the diggers on a course to the earth's core, so you'd better make the right choice?
SR:  Of course.  The owners' ambition was another major factor.  It wasn't a case of 'Money is no object' but certainly the philosophy behind it was that once we'd decided to do the big room, there's no point making that sort of investment to get to 'quite good' or 'nearly there'.  We had to get to the end goal, to be able to attract and deliver final mixes on the biggest productions, and be the only Atmos Premier Facility around.
"Who am I building this for?"
R: Which leads us on to another big set of choices, the technology.  Back in 2013 you had two new immersive formats vying for position, Auro and Atmos.  With a 55-speaker installation, you can't easily have both.
SR: No, and you can't A/B them either!
Having decided on what we were aiming for in terms of the room, I turned to the technology choices and went back to the fundamental principle at the heart of all of this: "Who am I building this for?".  That's where you have to start, and that's what you have to keep in mind at each big decision.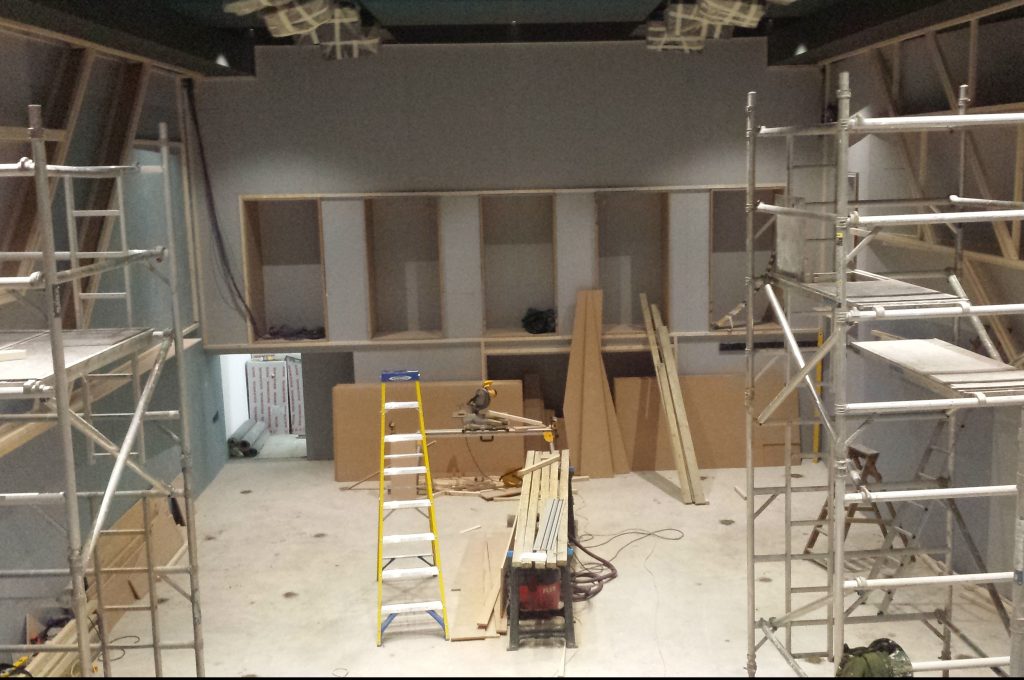 R: Which makes sense, especially in the context of a dry-hire room.  With dry hire it's not only more important, but surely the 'who' is much harder to know?  It could be any one of a number of US and UK crews?
SR: True, but that lets you get a broad range of opinions and see where the consensus is and the trends are.  I spoke a lot to my own 'focus group' of some of the world's top re-recording mixers and supervising sound editors about how they want to work and how they don't, and beyond that how they see it changing.
R: What did the Elite film sound hive mind tell you?
SR: First-off, it led us to decide on Dolby Atmos Premier.  Beyond that it led us to decide that we shouldn't dictate how the room is configured.  The next big choice was the desk.  What we found was that there are an increasing number of in-the-box mixers (more now than in 2013 when we first asked) and also many who want a DSP console, or both.
Match and Mix
R:  And presumably the old control-surface-sitting-on-top-of-a- console wasn't the look you were after?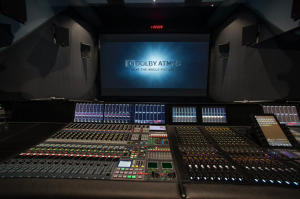 SR: Exactly, but making an either/or choice wasn't possible either.  Not if we're staying true to "Who am I building this for" and the feedback I had.   Where we ended up was an obvious need to accommodate both Avid S6 and AMS DFC, and to do that in a way that's elegant and flexible from show to show.
R: How did you do that?
SR: We were put in touch with a company called Frozen Fish, who are a specialist set design and metalworking company.  We worked with them to design a custom framework for us to create an S6/DFC hybrid.  Hugely experienced in their own field, but comparatively new to this, they were really receptive and keen to conceptualise something new.  By building interchangeable AMS and S6 'buckets' in a single console frame, we are able to mix and match in an intelligent way.
R: So what are the console specs as a result?
SR: It's a spectrum.  We can offer a 72 Fader dual-op pure DFC, a 48 Fader dual-op pure S6, and all manner of hybrid permutations in between.  As and when needs evolve we can easily tweak that blend with incremental investment.
R: Having opted for Atmos Premier, there's the speaker choice to consider also?
SR: And again, unlike a stereo pair, you can't sit in a room – this room – and A/B a 55 speaker Atmos setup, so we took our cue from what the UK and US crews were telling us.  Again it ended up not being an either/or.  Based partly on feedback, partly on what's in some of the bigger LA rooms, and partly on what we knew would transfer well into the wider cinema world, we went for a mix of JBLs in the front and Meyer surrounds.
R: Looking back at 2014 and 2015, we were fortunate enough to see the new theatre as a work-in-progress.  A somewhat daunting, colossal hole under Dean Street which at times it seemed would never end.  What was the overall build time, and now that it's done, was it worth it?
SR: From start to finish, closing the old theatre to running up a mix for real in the new one, was around two years.  There were times when I wondered if we'd bitten off more than we could chew but we never deviated from the path towards our end goal.
Since we opened we've done what we set out to do, which is gratifying and vindicates our plan.  One of the very first bookings in the new room was Jason Bourne for Universal, a $100m+ budget feature.  It sounds great, it's doing well at the box office and the whole crew and production team were happy with the room.

Goldcrest Dean Street Theatre 1 Specs:
Theatre Dimensions: 14m x 8.5 x 6m
Screen 7 m wide, Throw 15m
Acoustic Design by Level Acoustic Design
Private green room
2 cutting rooms exclusively for use with the Theatre set up to allow access to any Pro Tools system in use with the theatre.
5.1, 7.1 and Dolby Atmos monitoring. JBL/Crown Screen Channels and Meyer Surround speakers with custom monitoring control.
AMS Neve DFC3D Gemini Digital mixing console:
AVID S6 M40
5 x Pro Tools playback systems – all including Waves Platinum
1 Pro Tools Recorder HDX 1 64 channel
Video Projection: Barco DP2K-10SX including Integrated Media Server for DCP playback
Video Playback: Pro Tools Native with AJA video card
Fully integrated DKVM switch system for all workstations including audio for headphones
2 x Lexicon 960 Reverb
2 x TC 6000 Reverb
4 x DBX Subharmonic Synthesizer