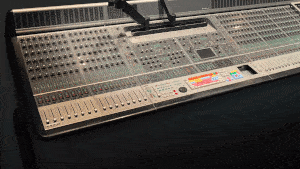 This item has been sold
80 Fader D Control ES – Dual Operator
Available via Resurface from Sony Pictures in Culver City, this extraordinary 80 Fader D Control ES is a rare dual-operator configuration.
Formed of two independent consoles - a 32 Fader and a 48 Fader Icon D Control ES - the constituent modules are seamlessly combined into a single physical surface. Equipped with surround panners, two dual-VESA arms and full length monitor shelf.
Now de-commissioned and securely stored, this console was expertly maintained to the highest standard for daily use in Feature and HETV mixing on a wide variety of major projects.
If desired, buyer can restore the console to two separate desks in a variety of size combinations (note: will require additional frame and leg parts, not offered by seller, depending on desired spec)