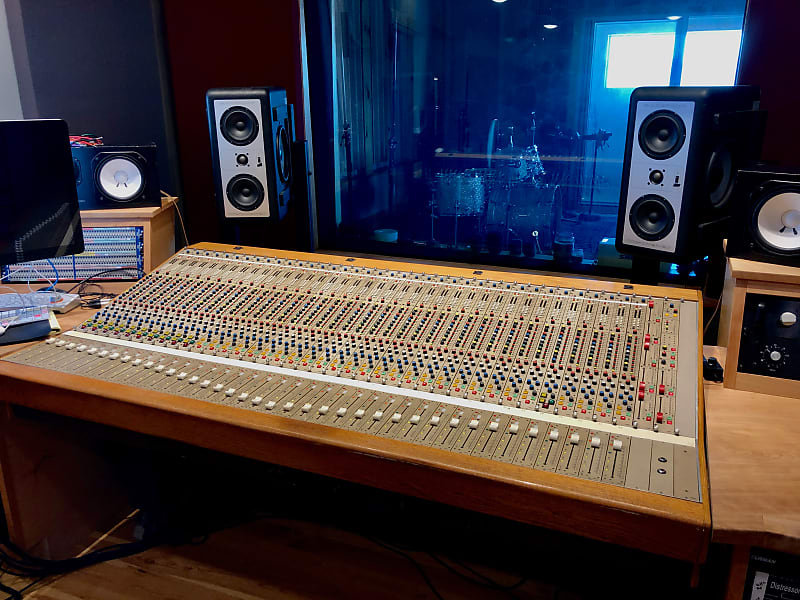 This item has been sold
Cadac E-Type Mixing Console / Sidecar for sale
Cadac E Type sidecar input channels and frame with custom American style mix bus, one Aux module, and custom cabling.
This is the input channel section of a Cadac E type console from the late 80's- early 90's. This console originally came in two pieces, the input channel frame and a master section frame that linked together via a large multi-pin connector cable. We do not have the original master section for this console, only the input channel frame loaded with 38 mic pre/EQ modules with mic input, direct output, insert and one original Aux send module.
The input channels are from two slightly different revisions of the console (see photos), and has the original Cadac power supplies. The console is entirely original with original capacitors. All channels are working pass audio, a couple can be a little noisy and only 4 out of the 8 aux sends pass signal currently. We wanted to make this the centerpiece of the studio, so we added a custom American style 2-bus master section with inserts, VU meters and a master fader in a 2RU enclosure.
The master section has stereo Mix outs and Monitor outs. The Custom 2- bus is sourced form the M1 and M2 bus switches on the input channels and allows you to sum all 38 input channels to a stereo output. This console has no line inputs but we have been using the insert returns as line input from Pro Tools. The direct outputs are isolated with very nice Lundahl transformers. The build quality on this console is very good, and as you can see in the photo of the exposed channel, it is in excellent condition. The channels are very heavy and used some of the nicest components available at the time. Console is Pin 3 hot from the factory in England, and included in the sale will be custom cabling that has been modified for the pin 3 hot configuration.
This would be a great piece for someone who would like a very well built console with a vintage vibe. Worth nothing that this console sounds especially amazing on drums. As mentioned above, this console is in original condition. Having closed the studio the desk has been decommissioned and packaged to ship currently not being used as the studio it lived in has closed, however, we were happy with the current, original caps on the channels while it was in use.