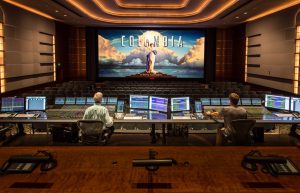 Avid S6 Introduction and history
Released in September 2013, The development of Avid S6 combined the experience of the engineers and designers responsible for both ICON and System 5, following the acquisition of Euphonix in 2010. The intention of S6 was to provide a highly modular and customisable mixing surface, alongside intuitive control of Pro Tools, which acts as both the mix engine and multitrack / dubber. Avid have stated that by mid 2016 S6 was in use in over 1000 music and post production suites world-wide.
Surface layout and expansion options
Avid S6 is highly modular, comprising standard modules which are installed into a frame which can be either 3 or 4 modules deep and from 2 modules up to 64 modules wide.
Each module is effectively a small CPU, with its own power and network connection. The quantity and type of modules available in any given desk configuration is dictated by the Master Touch Module (MTM), the large centre section module with the upright screen. There are two types of MTM, the M10 and M40, each has a different power processor that dictates how many and what type of module they can drive. The suffix number indicates the maximum number of modules available to that MTM module, M10 can run up to 10 modules, M40 up to 40 modules, the meter bridge style Display Modules only work with the M40.
In addition to the MTM, the centre section modules include the Automation Module, providing transport and short cuts. There is also a Joystick Module and a Pec / Direct type Post Module.
Channels are configured from a Fader Module, Process Module, Knob Module and the Display module.
The frame and module options combine to facilitate system sizes that range anywhere from 8 faders, 5 knobs and 2 modules in width, through to 64 faders, 9 knobs deep and 9 modules in width. Further expansion beyond these configurations is possible  with the additon of producers desks, and through adding systems for mutiple operator use.
Links to related online resources:
Avid's S6 page with an overview of each module and accessories
Avid's 'get started quick' series of video tutorials
S6 Module weights and power requirements