At the recent Media Production Show 2018 in London, Resurface co-founder Ben Nemes chaired a panel discussion and Q&A on the topic of ADR for TV and Film.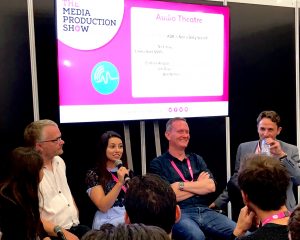 Joining Ben on stage to share their wisdom were Cristina Aragon, Jon Olive, Emma Butt and Nick Kray. Between them, their careers as ADR Mixers cover a broad range of productions including  Game of Thrones, Harry Potter and the Deathly Hallows, Solo : A Star Wars Story and Les Miserables.  In this session (entitled ADR is Not a Dirty Secret), the audience and the panel explored the craft and its role in storytelling.
A central, recurring theme of the discussion was the acronym itself.   In particular its inadequacy, and what alternatives might better reflect the role of ADR for TV and Film.
As abbreviations go, you'd have to say ADR gets (at best) one-out-of-three.
Automatic Dialogue Replacement
If you're from the US, then you're lucky enough to have the catch-all term 'Looping' to fall back on.  Otherwise, you're going to have to put up with Automatic Dialogue Replacement.
Where to start?   Perhaps let's all just agree, straight-off-the-bat, that there's nothing Automatic (or even Automated, if you prefer) about it.  Some great session management tools exist from Sounds In Sync and others, but let's not confuse the tools with the task or the talent. Perhaps the letter D gets the benefit of the doubt.  Even so, are the on-screen actors' breaths, efforts, shouts and grunts (so often shot in post), strictly Dialogue?
Leaving us then with R for Replacement.   The definition of ADR for TV and Film as simply an exercise in shooting like-for-like, word-for-word replacements for lines delivered on set is inadequate.   It was at this point in the discussion that Jon Olive put forward a lesser-spotted alternative: Additional Dialogue Recording.
Additional Dialogue Recording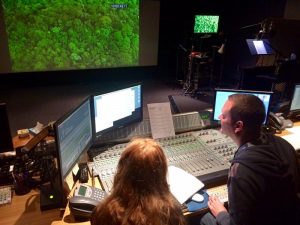 All panelists were expansive on the benefits of ADR as a storytelling tool, with Nick Kray in particular outlining ADR's role in exposition.  As the edit evolves and/or test screening scores begin to emerge, scripts will change. Scenes will come and go. With the shoot long-since wrapped and the show now in post-production, it's often ADR's purpose to bridge any gaps in the audience's comprehension of the story.
As explored in Chris Roberts' article on Resurface from 2017, an entirely new explanatory line from a character off-camera can succinctly join the dots if the dots need joining.
Dialogue being added in support of the story, or of their own character's nuanced arc, is an altogether more palatable reason for actors to do ADR, and therefore to approach it naturally, favourably even, with the ideal mindset.
Emma Butt led the panel's support for today's on-set 'SpaceCrate' approach, of working with actors fresh and in character (see our Onset of On-Set article for more). Psychology, our panel agreed, is critical in the ADR studio. An environment in which some, but by no means all, Actors Deliver Reluctantly.
Given that definition's never gonna stick, what's most helpful about Additional Dialogue Recording as an acronym is that it carries no unhelpful insinuation of artistic or technical failure on-set. No blame laid at anyone's trailer door.
Which isn't to say things don't go wrong.  Even things that go right could go better.  More commonplace is that the need for ADR can be reduced or circumvented with some forward planning during the preproduction and shooting periods.
Avoid Doing Repetition
Some situations which always spell ADR just can't be avoided. The spaceship's gangplank will be made of fibreglass.  Wind will be conjured up by an industrial wind machine. Horses will have horseshoes and planes will make their final approach directly over the backlot.  Where there are more manageable either/or choices to be made, the panel were keen to point out where unnecessary spend on ADR could be avoided. Leaving more time and money for that which contributes to the story.
Some of these choices lie in areas where, traditionally, the post sound team have no involvement.
Locations themselves and their suitability for sound.  Mic placement, positioning of generators, fabric choices in costume are all examples where, as Jon Olive explained, some time spent (and trust invested) with the production mixer, or any sound-savvy person you can find, will let the production avoid the avoidable.
Scenes shot in cars were a particular area of focus.  Cristina Aragon and Nick Kray both being firmly of the belief that – if at all possible – get a tow!  Hard roads lead directly to ADR.  Cristina conceding that, if it really has to be shot in an actual, driven, car – then at least separate the car key from all the others!
With the Media Production Show audience largely made up of content creators eager to hone their skills, the panel were willing and able to impart some wisdom ready for their next project.  Cautionary tales and everyday practical considerations for film-makers which, to some extent, would do the panel out of a job.  Or at least it would if that job was Automatic Dialogue Replacement.
---
The Media Production Show returns to London Olympia, 11-12 June 2019.  Register here
---