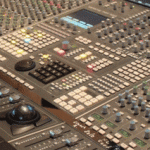 This item has been sold
SSL Duality 72 input with latest Delta upgrade – superb condition
We are taking enquiries for a large configuration SSL Duality, this 72 input console is for sale on behalf of a private studio owner and is in immaculate condition.
This is a rare opportunity to purchase a preowned 72 Input configuration that has been upgraded to include the latest version of δelta control, facilitating DAW plug in control and automation.
Available at close to a third of the new price, and less than many preowned 48 fader Dualities.
More details on the Duality can be found on our resources page here and SSL's product page here.
Please contact us to discuss this console in more detail.