Introduction
Danny Finn is a UK-based TV Mixer of note. In an award-winning career of 25 years behind the console he has mixed a number of successful and high profile UK TV shows, spanning drama and documentaries.  His primetime credits are diverse, in that they include shows such as Judge John Deed, Panorama, Horizon and Footballers' Wives.
In those 25 years as a staff mixer at a number of top Soho post houses, the thought of going freelance never crossed his mind, it was never the endgame as it is for some.  But things change, shit happens, and now Danny is embarking on a new adventure. That of becoming a freelance TV Dubbing Mixer.  
We asked Danny if he'd share with our Newsfeed his thoughts and experiences, the trials and tribulations, as things take shape out in the big, bad world; to check in with us at every stage over the first six months so that the tale unfolds in real time. He very kindly agreed.
Part 1 was published in April 2017.  Part 2 in July.  This is Part 3: in which Danny has a big choice to make.
---
Boom!
So, where dear readers did I leave you all last time? In the sh!t if I remember correctly. (If that makes no sense, it may well be worth re-reading part 2. If it still doesn't make sense then, well, there's no hope for us.)
It has been a whole 6 months since I entered the world of freelance dubbing mixing and, wouldn't you know it, I have been offered a senior staff job.
Regular wage, sick pay, holiday pay. There'd be a sales team, client managers, a tech team, assistants. No more self-doubt and insecurities.  The company in question are really nice people.
But (and forgive me Mrs Parsons, my old English teacher, for starting a sentence with BUT).
However, (that's better). However, this is not the only thing that has happened in the last 3 months since I last scribbled on various napkins and empty cigarette packets with my inane ramblings, anecdotes and toilet humour. Then sent them to Ben at Resurface to try and make some sense out of them all, oh no…..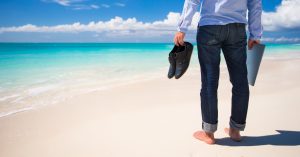 I am now officially, a jet-setting dubbing mixer. I get flown out, picked up at the airport, put up in my very own apartment. Working at a company that is as far away from Soho in attitude as it is in kilometres (or miles if you voted leave).
I, as always, won't name names but these guys are lovely. Relaxed, talented, fair and caring. The work is top notch and they paid each of my invoices within 3 days.
Three days!
I was worried that the 0 had fallen off the '30 days terms' on my invoice template but it hadn't. My cash flow had never been happier.
When I finished each day's booking, I would go beachcombing. Different world……
There's two other audio freelancers, both much cleverer than I am, to whom I still owe many drinks.  For giving this company my name and details. You know who you are and I haven't forgotten you lads.
Now, in the interest of balancing out the universe. Some ying to go with the yang. Lows to even out the highs. Downs with ups, the hangover after the great night out. The fleas after cuddling a stray cat. You get the point I'm sure.
Bust!
Things were going well. I had some money in the bank, bookings coming up and all was well with the world. So well that I treated myself – I went away on holiday for a week in the sun. (Before I was freelance that wouldn't be a big thing but now little things like that take some nerve. Well, as this was my first one under my new job title it did for me anyway. I even had to turn down bookings to keep the week free!)
Cut (or maybe a gentle fade) to a week later. Somewhat brown and somewhat tired as it was some ungodly hour of the morning I arrived home. Waiting for me is a letter from a company of receivers. 
A post house who I had done a lot of work for before I went away, who were a tad behind in their payments, (read 'a tad' as 'a lot'), had gone pop. Belly up. Bust.
Pushing up the daisies! Its metabolic processes was now history. It's off the twig. It's kicked the bucket, it's shuffled off its mortal coil. Run down the curtain and joined the bleedin' choir invisible!! THIS IS AN EX POST HOUSE!!
(With huge apologies to Monty Python)
Having spoken to the receivers in question and done some rough calculations:  If I'm lucky, in 6 months I may get 5p in the £. (7 cents per $1.32 for our colonial friends). That's the equivalent to me losing almost a month's pay. Not something my cash flow had planned for to be honest.
Welcome home.
It didn't get better.
The very next day; the day before two weeks of work that I had pencilled, that work went away due to a member of staff there becoming available – fair enough in today's day and age, but I could have done without it as I'm sure you can imagine. (or rather done with it!)
So to summarise:
Lost a month's salary
Lost 2 weeks' pencilled work
Gained a tan
Alas a tan won't pay the bills. My white bits might but I'm a way away from selling my body instead of my ears.
Or so I thought….. More in part 4.
Only kidding.
Right. Be proactive. Update my CV and credit list and do a mail shot. Remind people I am here and available. It's my first one since my initial one when I started. Mustn't sound too desperate. I now have studios I can dry hire at a fair price in West London, Soho and in the City to sign off tracklays and mixes done at my home studio.  Thus saving a production company a lot of money. Good hook for the emails to production companies. Just need a hook for the facilities……
Saved by the bell
Or rather the ping of an email. Would I be interested in a gig at a certain national museum in London? An audio installation that requires sound design and a 5.1 mix to tell the story (there's no pictures). I've spent the last 25 years telling stories, bemoaning the fact that the pictures get in the way – here's my chance.
I met with the director and the editor, did a test section – job done. The gig's mine and although I'll be the first to admit sound design has never been my strongpoint, the fact I have time to think about each and every sound. Have a play, another think. Go back to the beginning and start again, have a think, play again until I am totally happy has been great fun. A luxury most TV dubbing editors / mixers don't have.
The day after getting that gig my inbox pings again. 6 x 60 for Netflix starting the following week. To be done at my home studio then pop into Soho for the sign-offs. Check, yes please. Admittedly there is still a hole to be filled in cashflow before these jobs pay but the fact I know it's coming settles my mind somewhat.
Anyway, back to the present, all this stress, worry and heartache would be a thing of the past with a new staff job.
A job perfect in every respect bar one and to me, after a genuinely tough time thinking about it, was the deal breaker. Nearly 4 hours commute every day. Maybe 10 years ago but not now. Not now with my new work / life balance. Not now I'm booked up every day bar 6 until Christmas Eve.
Not now that I'm a freelance dubbing mixer.