Fans of perfect symmetry will have greeted this year's Best Sound Oscar nominations with a big thumbs up.
Both thumbs, presumably.
This year, the 5 Films nominated for Best Sound Editing and for Best Sound Mixing were the same 5 films. This hasn't happened in recent history, certainly not in the 12 years since the two categories have existed in their current form.

'In their current form' because much like the role delineations in the craft they celebrate, the categories themselves have evolved over time. The Academy Award for 'Sound Recording' dates back nearly a century, becoming 'Sound' around 1930, then 'Sound Mixing' as recently as 2003.
Sound Editing as a category has endured a more turbulent path from its debut in the early 1960's. Originally 'Best Sound Effects', then 'Best Sound Effects Editing'; there hasn't always been an Oscar statuette up for grabs. For many years the prize on offer was a Special Achievement Award.
It's only since the 79th Academy Awards in 2006 that the two categories have stood side-by-side on a par for comparison; These days each comprises 5 nominated films. Winner of each category gets an Oscar.
There Can Be Only One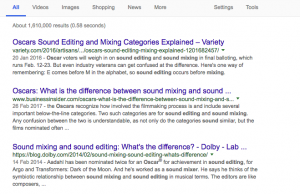 It's around this time of year that mainstream and industry publications alike will put out a piece explaining the difference between the two disciplines. At the same time, the debate will resurface as to whether – in this collaborative, technologically empowered day and age – the existence of two Sound awards is even merited.
This year's nominations have reignited that debate.  Those inclined to make the case against two categories will cite as Exhibit A that it's the same 5 films nominated in both. The argument being that the nuanced differences between the two are now so imperceptible as to be irrelevant.
This total eclipse of the Venn Diagram has certainly been coming, though.  Seemingly a matter of time.  The two categories have had 4 films in common 8 times in this 12 year period, and never had fewer than 2 overlap.  Prior to there being 5 nominated films in each category, the odds were a little longer, but even if we go back 20 years, there's always at least one.
Logically – the overlap stands to reason.  A great sounding film is a great sounding film, and that's testament to the whole audio crew. This is a team sport and increasingly so. The 2018 BAFTA nominations (within which there is only one 'Sound' category) were also these same 5 films.  The counter-argument for those in favour of two distinct categories boils down to "These are 2017's five best edited and best mixed films.  They're different skills. Get over it".
In each of the past ten years, one of these dual-category films won a best sound Oscar.  In fact, it's statistically more common for a film to sweep both (6 times).
More cynical would be to suggest that while the members of the Academy's sound branch understand the difference between the categories when voting, many of the other academy members may not.
It Takes Two, Baby (Driver)
What's particularly interesting, and perhaps most indicative of the increased fluidity of roles, is the instance of the same person being nominated in both categories.  This year, Julian Slater (Baby Driver) and Ren Klyce (Star Wars : The Last Jedi) share that accolade, their superlative, wholistic work earning both a cross-category pair of noms.
This, of course, is less common.  Yet it happens surprisingly regularly.  Last year it was Ai Ling Lee for La La Land.  In the 6 years between 2006 and 2011 it happened every year.  Ren Klyce (double-dipping again), Gary Rydstrom, Paul Ottosson, Christopher Boyes, Ben Burtt, Skip Lievsay and Randy Thom are all past members of the prestigious 'Nominated in Both Categories' club.

Special mention at this point has to go to Randy Thom who, in 2004, was nominated twice in each category, picking up the Best Sound Editing Oscar for The Incredibles.
Worth noting for Julian and Ren is that the 'old Randy Thom trick' of halving the odds statistically by being talented and omnipresent enough to get nominations in both categories (and in Randy's case, halving them again with two films in each) rarely works out.  Only once since 2006, 4 times in the last 20 years, has that person won either.
Special mentions here for Paul N.J. Ottosson (The Hurt Locker, 2009) and Gary Rydstrom (Saving Private Ryan, 1998) for bucking that trend, somewhat emphatically, by winning both.
Resurface Oscar Predictions
Certainly there's no single, stand-out frontrunner; All 5 nominated films offer something exceptional, evidenced by the spread in winners of recent awards.  Dunkirk and Blade Runner 2049 both picked up MPSE Golden Reel Awards. Dunkirk also grabbed the CAS award for sound mixing, with Baby Driver winning the AMPS award.
Dunkirk's recent and well-deserved Best Sound win at the BAFTAs should make it the bookmaker's favourite.  In the last decade only The Revenant in 2015 failed to follow up the BAFTA with a win in an Oscar sound category, they're generally joined at the hip.  Indeed five of the last ten BAFTA winners have won both Best Sound Oscars.  Add to this the Academy's apparent soft spot for war films and it's hard to see past the likelihood of a Dunkirk win.
Baby Driver's striking, explicit sound choreography and use of perspective make it a remarkable sounding film, possibly remarkable enough to get noticed and attract the required votes, so we're calling out Baby Driver as the likely main contender to Dunkirk.
Come what may at the 90th Academy Awards on March 4th, we congratulate this year's nominees in a landmark year for sound.