With the 2020 awards season now underway, Resurface congratulates the nominees in each of the all-important 'Best Sound' categories.
As in previous years, we can look at the work itself – along with overlapping nominations and early award announcements – for clues as to where the British (BAFTA) and American (Oscar) Academy awards will end up.
Guild Awards Announced
In the last few days, we've seen award winners announced by the three most prestigious craft guilds: CAS, AMPS and the MPSE: The AMPS award takes the form of an overall 'Best Sound', voted on by its professional membership, whereas the CAS Awards and MPSE Golden Reels recognise sound mixing and editing respectively, and are further focussed by discipline and genre.
These professional peer-group guild awards are the traditional curtain-raiser and precursor to the mainstream Academy awards – and tend to provide a useful insight into their outcome.
Without further ado:
---
The 2020 AMPS Award for Excellence in Sound for a Feature Film was awarded to 1917 ( Stuart Wilson, Hugh Sherlock, Oliver Tarney, Rachael Tate, and Mark Taylor )
Winners of the two MPSE Golden Reel Awards which relate specifically to feature films (non animated or musical) are:
Ford v Ferrari (Sound Effects & Foley)
1917 (Dialog and ADR)
With the CAS Award for Motion Picture – Live Action also being won by Ford v Ferrari.
---
These two winning films are also nominated for the Best Sound BAFTA, as well as both (i.e. Best Sound Editing and Best Sound Mixing) Oscar categories.
This year sees only a partial overlap between the two sound Oscars (having previously had all 5 nominee films in common), although talk continues about amalgamating the two into just one sound Oscar.
The third double-Oscar-nominated film is Joker, which is also nominated for the Best Sound BAFTA. Historically, the two academies are closely linked when it comes to picking a winner, the BAFTA winner more often than not collects one or both of the Oscars.
Before zeroing in on these three front-runners, it's certainly worth looking at the (comparative) outliers: Films not sweeping the Oscar and BAFTA boards.
Once Upon a Time in Hollywood received nominations in both Oscar categories (Wylie Stateman for editing, Mike Minkler, Christian P Minkler and Mark Ulano for mixing), yet is absent from the BAFTA shortlist. A win in either or both categories would be entirely deserved, but it would also be statistically rare.
Once Upon a Time in Hollywood's absence from the BAFTA nominations makes the traditional follow-up impossible. In recent times, it's only The Revenant in 2015 which has failed to win either Oscar having picked up the Best Sound BAFTA.
Conversely, the excellent Rocketman is BAFTA-Nominated (Mike Prestwood-Smith, Danny Sheehan, Matthew Collinge, John Hayes), but misses out on nominations in either Oscar sound category, instead earning up-and-comers Elton John and Bernie Taupin an Oscar nod for Original Song. It could, should, be argued that expertly crafting those songs into the narrative from spoken dialogue, via 'sung dialogue' into the actors' full-blown studio versions (and back again) is worthy of greater recognition.
Meanwhile, in outer space, Star Wars: The Rise of Skywalker earned nominations from both Academies (David Acord, Andy Nelson, Christopher Scarabosio, Stuart Wilson, Matthew Wood for the BAFTA, with David Acord and Matthew Wood nominated in the Best Sound Editing Oscar category). Ad Astra (Gary Rydstrom, Tom Johnson and Mark Ulano) received an Oscar nomination for Best Sound Mixing.
Shortlist of Shortlists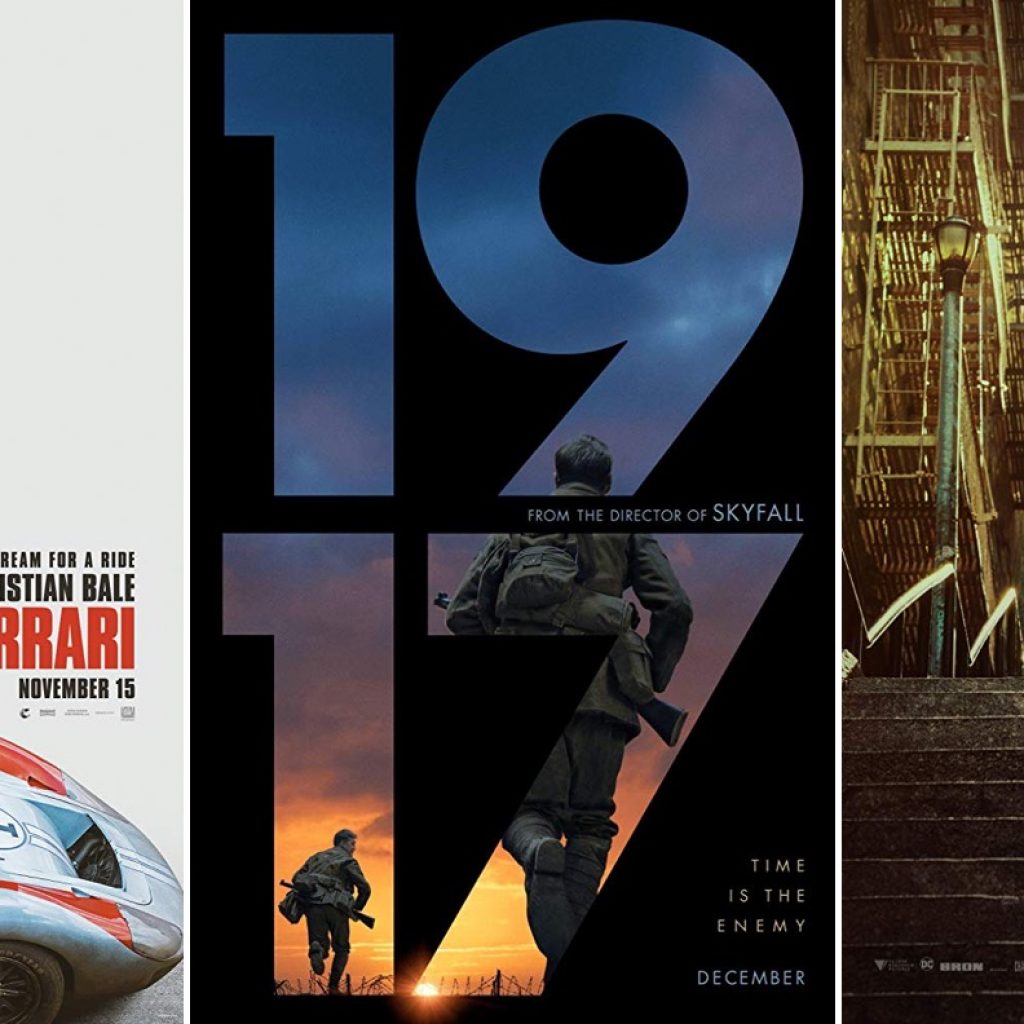 In predicting a likely winner for either the BAFTA or Oscar sound awards, or both – it's difficult to see past the three films with either an early guild award win or a nomination in all three pots: 1917, Ford v Ferrari and Joker.
Three very different pieces of work, all superlative in their sound, each with its own unique set of creative challenges, with no single out-and-out frontrunner.
In Ford v Ferrari's case, the first challenge is figuring out what it's called. Here in the UK at least, it's Le Mans '66. Unsurprisingly awarded the MPSE Golden Reel for Effects & Foley, the painstakingly authentic sound of the cars make them characters in themselves. Not it a Pixar-y way: the cars don't talk – they torque. The sound design and mix choreography in their groaning, creaking and rattling tells the story every bit as well as dialogue. Ford v Ferrari (Le Mans 66) has earned nominations for Paul Massey, David Giammarco, Steven A. Morrow and Donald Sylvester.
Joker could have been a crash-bang-kapow DC Universe origin story, and perhaps the hatful of awards nominations are partly in recognition of taking the creative high road. No superpowers or lasers, instead the sound team of Alan Robert Murray, Tom Ozanich, Dean Zupancic and Tod Mailtland create a detailed, menacing, gritty and unsettling-sounding universe. The increasingly dangerous and anarchic mood of Gotham is pervasive and nerve-shredding. Yes, there are car crashes and explosions, but they are presented suitably matter-of-factly by comparison with the psychological car crash unfolding in Arthur Fleck.
1917 is a war movie, more of which later. Its achievements in cinematography are well documented in numerous, fascinating, online making-of vignettes.
Less well reported are the increased demands this approach places on the true creative heroes: Sound – both on set and in post.
The result is a supreme piece of work in all areas, earning nominations for Oliver Tarney, Rachael Tate, Scott Milan, Mark Taylor and Stuart Wilson.
2020 Awards Season Predictions
If there's one thing Academy voters seem to gravitate towards more than an epic piece of cinematography, it's a war movie. The 2020 awards season presents them with both in the form of 1917.
Last year was notable by the genre's absence (Bohemian Rhapsody winning the BAFTA and both Oscars). 2018 saw Dunkirk triumph over Baby Driver for all three, despite Baby Driver having a particularly inventive and original approach to sound.
And so to predictions: For the 2020 Awards Season, Resurface are calling it for 1917. For Best Sound, Best Sound Editing, Best Sound Mixing, Best Family SUV and Gold in the Men's 110m Hurdles.