In the time since Resurface established a presence on-the-ground in Los Angeles, we've been able to dig up some very interesting consoles and make them available for the secondary market.
We still have the maxed-out Studer Vista On-Air console from the Conan show, we recently sold a Euphonix System 5 which was still in wooden boxes, untouched from the factory after all these years.
This week, we've been asked to find a new owner for what is perhaps the most "LA" of our LA discoveries: a Dual operator, 80 Fader Icon D Control ES.
Up until recently this console was the centrepiece of Mix Stage 12 at Sony Pictures in Culver City, home to many feature pre-dubs and HETV mixes. Equipped with surround panners, custom dual-VESA arms and full length monitor shelf, our friends at Sony have asked us to find a loving home for this expertly-maintained, rare example; and it's a beauty.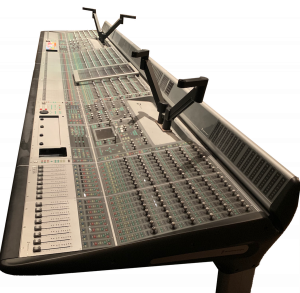 Get in touch if we're wrong (bullshit@resurface.audio), but we've never seen an 80 Fader Icon D Control become available on the secondary market. Not many people will even have seen one in-the-flesh.
Strictly speaking, of course, it's not an 80 Fader Icon (singular). This console is dual operator – as is the norm in large scale re-recording scenarios – meaning it has two Main Units, each one driving separate Pro Tools rigs. Using intermediate frame legs and metalwork, this is a 32 Fader and a 48 Fader, their constituent modules all seamlessly combined into a single physical surface of just over 5m (16'8″).
The potential new owner might be in the film and TV mixing business, somewhere in the world, with a big room to equip. For this customer, there are limited tried-and-trusted console choices, certainly nothing new for under quarter of a million dollars. Alternatively, the new owner might be a multi-room facility in need of two replacement Icon D Control ES consoles with panners, and/or enough replacement spares to last a lifetime.
Resurface are proud to represent this console on behalf of Sony Pictures, if you would like to get in touch with an enquiry, please contact us via info@resurface.audio.