Avid S4 Announced
Unveiled at the recent Summer NAMM show in Nashville, news of the Avid S4 and S1 control surfaces has lit up the internet's various forums.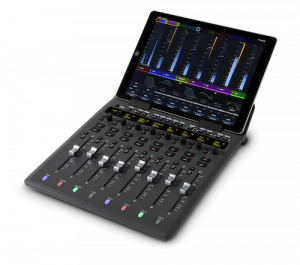 Avid S1 is, to all intents and purposes, the natural successor to Artist Series.  Straightforward, neat and with some very nice design touches (the magnetic 'coupling' of multiple S1 units is a particular favourite). S1 – with or without the addition of 3rd party tablets from Apple and others –  is largely self-explanatory.
Avid S4 merits further explanation.  Essentially replacing the S6 | M10, with which it has much in common, the Avid S4 is built around a brand new 3-in-1 consolidated Channel Strip Module (CSM).  The CSM combines eight faders, each with four knobs and a function select feature, into one (pleasingly raked) amalgamated building block.  Removing some of the granularity from modular console design is no bad thing (see our article on Modularity and the Modern Mixer).  S4 is still very much scaleable, from 8 to 24 faders, with the option to add M40-style display modules, attention knob modules, Post or Joystick modules.
S-Series Lineup
On the face of it, the Avid S-Series control surface product lineup now looks like this: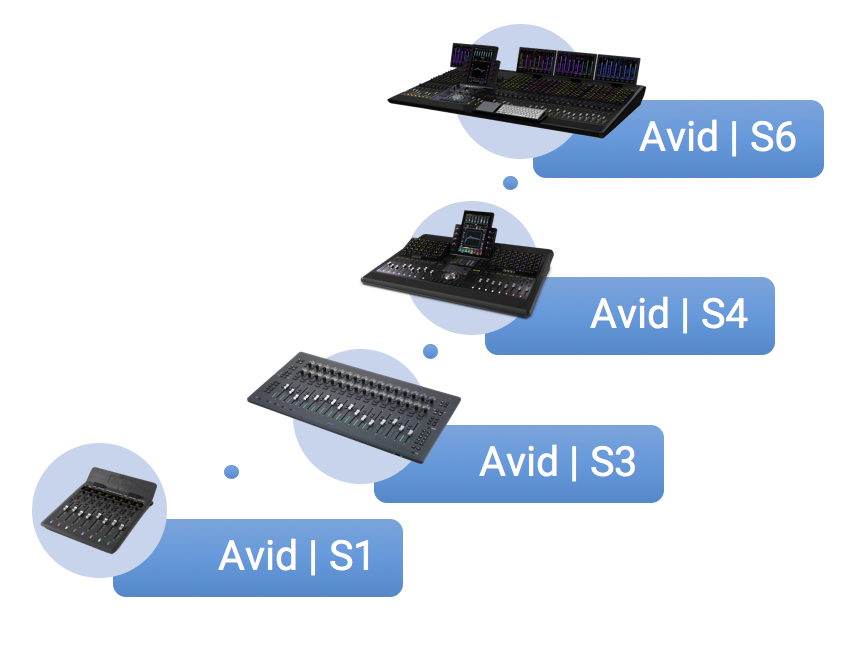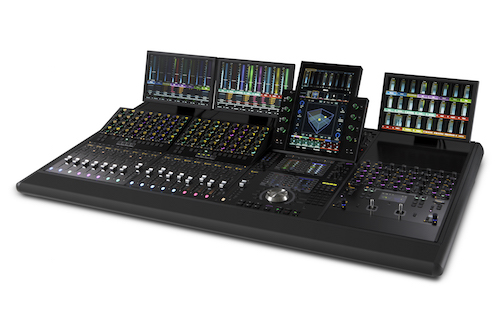 However, Avid S4 isn't necessarily the linear gap-filler we might have expected.   Fans of mathematics will point out that 4 – in this case – isn't the traditional 33% more than 3.   Similarly, fans of Euphonix DSP Consoles will understand the reluctance to repeat S5 as a product name, and there seems little need for the existence of an S2.   When compared with S3; Avid S4 is a whole lot more desk.  Cost-wise it will occupy a bracket more akin to the S6 M10 it effectively supersedes.
The Significance of Displays
In the six years Avid's S6 has been finding its way into studios worldwide, the at-a-glance, real-time feedback offered by the M40-only display modules has proven valuable in-the-field.  The likelihood would seem that S1 users will choose (where budget permits) to embellish their surface using multiple S1s, probably a dock, certainly the iPad (or Android) tablets running Pro Tools Control which bring with them the really good stuff.  S1 without a tablet looks inescapably like there's something missing.  From a functionality standpoint, there kinda is.
Also announced alongside S4 and S1 is the M10+ Option for existing S6 M10 owners.  A chargeable software option (bundled in the $10k cost of the first display module, with subsequent displays at the standard $7k), M10+ allows display modules to be added to the S6 M10.  Without doubt a major functionality boost, however with S6 M10 simultaneously being made end-of-sale, there will be reluctance in some quarters to double-down on an existing M10 investment to the tune of between $10k and $24k per room.
Similarly, Avid S4 customers will likely aspire to the display-equipped models.  Meaning the product line up, in real-world terms, looks rather more like this: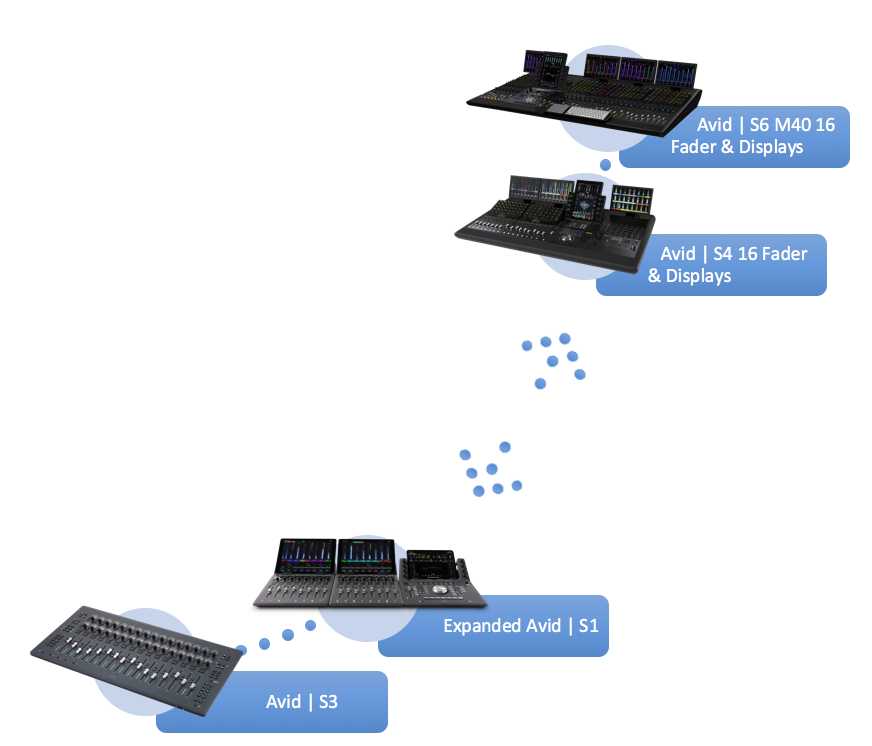 Pricing information is very approximate so far, but some common sense assumptions rounded up or down seem reasonable.  An expanded S1 setup with three iPads and a dock is going to be somewhere just under $10k and will represent a superior solution to S3.  A 16 Fader S4 with two or three display modules and perhaps an optional extra such as the surround panner will be nearer to $50-60k.
Of course, S4 will be available in an 8 Fader, no-display configuration, although costing slightly more than the 8 Fader S6 M10 it replaces, at around $25k.  Similarly, a single S1 is likely to be priced at just above the former cost of the Artist Mix, and up to four can be magnetically shuffled together to provide 32 faders.
The reality is that high-end control surfaces of the level of sophistication of Avid S4 aren't traditionally popular in their base configurations.  Icon D Control was never made in an 8 fader form, and 8 Fader S6s or System 5-MCs are comparatively rare.  Put simply; eight fader consoles costing over $20k simply haven't gone well.
Looking at the lineup in these terms reveals a significant gap.  For the customer with $10k – $25k to invest in a new Avid control surface: there's nothing.
That gap represents the sweet spot for many studio budgets, evidenced in retrospect by the all-conquering popularity of Icon D Command. Now it's the territory of the used market. Recent activity on Resurface shows that $10-25k would buy a 32 Fader D Control ES or even an ex-demo 16 Fader S6 M10.  The impact on used prices remains to be seen, but today $25k is pretty close to 24 Fader S6 M10 or 16 Fader M40 pricing, with hardly-used DSP-equipped alternatives such as this Euphonix System 5 Fusion also within reach.
Taking the used market into consideration, the introduction of S1 and S4 – in all their permutations – means there's absolutely a control surface out there for every budget.  It just may not be brand new.