When it comes to Dolby Atmos news: For us it's early April, for Dolby it's an ongoing March.
This time last year NAB 2017 saw the release of two new software tools from Dolby.  The Atmos Production Suite and Atmos Mastering Suite combined to create a toolset which allowed almost anyone to create and deliver Dolby Atmos files, thus democratising the format for audio post professionals everywhere.  In our article at the time, we highlighted these significant releases and looked at the state-of-the-nation for adoption of Atmos as a format.  Not just for cinematic content; we started to hear talk of increased orders for a variety of content produced in Atmos for the home.
True to form as this year's April NAB show opens, Dolby have more to tell us on both fronts.  The momentum continues apace, helped no doubt by the new levels of accessibility offered by last year's software releases. Here, too, there's news.  Both the Atmos Production Suite and the Atmos Mastering suite are set to be upgraded and enhanced.
The Relentless March of Atmos
According to the internet, around 740 feature films have been released since this time last year.  From the figures Dolby have shared today, it would appear around 300 of these – or 40% – got a Dolby Atmos release.  Total now stands at around 900 titles, up 50% from a year ago.
Significant, but if you're working in features, probably not a particular surprise.  Partly because there are now over 250 mix stages equipped for Atmos and over 120 post houses offering both Dolby Atmos and Dolby Vision.  The chances are that you've worked in one already.  Seemingly, if you haven't been asked to deliver in Atmos already, you soon will be.
Unlike the tally of worldwide mix stages, this 'post house adoption' stat isn't one we've seen before.  Most eye-opening are these new Atmos adoption stats emerging from beyond the traditional home turf of the cinema and those facilities specialising in features.   The post house figure is one.  Its existence tells of the growing demand from clients across the board:
---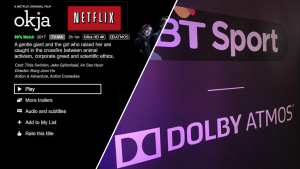 The number of home releases in Dolby Atmos now stands at over 350, covering all genres other than live broadcasting.  Live has its own story, with over 200 events (predominantly premium and pay-per-view sporting events and music programming) being offered to the home in Atmos.
---
Software Tools: NAB 2018 Announcements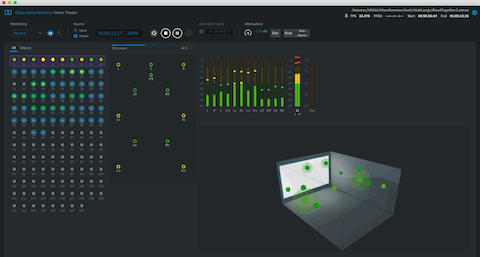 The Mastering and Production suites have been significantly enhanced, with Dolby seeking to streamline and simplify workflows and open up the toolsets to more users, notably across more platforms.
While the interface and user experience has been redesigned and simplified, both packages offer greater control throughout; From creation to rendering.
– Mastering Suite Updates
Previously a PC-only application, the Mastering suite is now a cross-platform Mac and PC native application offering ASIO, Core Audio and Dante support. The new user interface simplifies all aspects of use: From configuration through metering and monitoring, to the final mastering of content.
The improved interface, addition of a Renderer Remote application and binaural rendering modes for headphone monitoring will all help improve mix efficiency.
The focus on flexibility in the process continues with rendering. As well as now having support for up to 20 re-renders, down mixing workflows are improved. Previously limited to presets, the updated package now provides trim and warp controls, plus the ability to change metadata after-the-fact in a recorded master, simplifying the provision of 5.1 and 7.1 renders. Another step in the direction of the "Single Deliverable" utopia.
Masters can also now be created at 96k, helping provide some higher resolution future proofing.
– Production Suite Updates
Whilst the Production suite remains a Mac only application the addition of the Dolby Audio Bridge and Core audio support means content creation is also no longer the exclusive preserve of Pro Tools users. A message compounded by the addition of support for panning in Nuendo via the VST Multi-Panner. The Core audio support also makes QC'ing and deliverable creation possible without booting Pro Tools.
With the Production suite also now offering multiple Binaural Render Modes, both packages now offer functionality that was previously only available in Dolby's VR-specific toolsets.  The addition of these options for beds and objects provides a new level of control for how elements are rendered binaurally.
We'll be looking in more detail at the new software versions in action once they're released and in-the-field.
What's clear is that the uptake of Atmos across-the-board means that having the technology and skills for the format is fast approaching a necessity.
For immersive audio production, as with any technology trend for a business, weighing up client demand versus the capital outlay on tools is key.  Dolby certainly seem to be spinning both of those plates in support of their flagship format in a very effective way.