With today's announcement ahead of the NAB exhibition, Dolby are democratising and actively promoting toolsets aimed at audio professionals who want to create, edit, mix and master Dolby Atmos content for Blu-ray™, digital delivery, gaming and VR. The two new software bundles, the Atmos Mastering Suite and the Atmos Production Suite are available to anyone producing audio in Pro Tools 12.
Whilst not standing entirely alone in the immersive (or 3D) audio format world, Dolby's latest adoption statistics for Atmos reveal just how many speakers have made their way onto ceilings in theatres around the world, channelling the Atmos brand of immersive audio. Since Atmos's introduction in 2012 they now have 2700 cinema screens, 150+ global mix facilities and over 600 releases.
Up to this point Atmos has largely been the preserve of cinematic releases. A cursory look at current consumer hi-fi manufacturers' offerings will reveal that home adoption is very much underway, and not only for cinema buffs with strong ceilings and accommodating partners. There are already over 100 consumer Hi-Fi enabled products available, Sound-bars and upward firing Dolby enabled home speaker systems are set to make some degree of immersive experience accessible to everyone. With the reality of gaming VR tantalisingly close and with many major broadcasters already having publicly stated that Atmos audio will be accompanying their live event broadcasts, Dolby's NAB announcement is timed to help accelerate what Dolby will be anticipating to be an explosion in demand for Atmos encoded content.
So what's changed?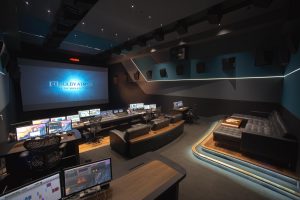 For theatrical cinematic releases, very little. The 9.1 Atmos bed and accompanying panning metadata will continue to be rendered in their hardware Rendering and Mastering Unit (RMU), providing the audio elements of the DCP required for theatrical distribution. The Dolby Atmos RMU remains exclusively available from Dolby directly and requires room certification by a Dolby representative or agent.
What Dolby have done is take two software products that were historically only available on a very controlled and limited basis and bundle them within two new software packages, creating two Atmos production toolsets that are available to anyone. At a very compelling price point.
The Dolby Atmos Production Suite
This package replaces the Local Renderer plug, previously only available on a controlled basis to those working on sessions feeding into theatrical RMU based workflows. The Production Suite provides editorial and premix functionality for film and TV content, along with a complete end-to-end workflow for VR content.
The Production Suite includes:
Dolby Atmos Panner for Pro Tools, including

Dolby Atmos Panner for Pro Tools

Controls for XYZ position, elevation mode and snap, speaker snap, zone selector and size
VR panners with controls for head-tracking, binaural distance model, top-down cube and equi-rectangular panner view modes, separate plug-ins for XYZ and spherical / polar coordinate controls
Dolby Atmos Renderer

Render Dolby Atmos audio and metadata from a Pro Tools session
Record and play back Dolby Atmos master files
Flexible monitoring options including speaker output and headphone output with binaural rendering for VR workflows
Perform online and offline re-renders, with channel widths from 2.0 to 7.1.2 as well as Binaural and B-format (FuMa and Ambix)
Includes Renderer Send and Return plug-ins for passing audio between Avid | Pro Tools® and the Dolby Atmos Renderer
Dolby Atmos Monitor

Displays signal level of objects and beds, as well the position of objects in a three-dimensional audio field
Dolby Atmos VR Transcoder

Transcodes a Dolby Atmos master file (.atmos) to a VR-optimized Dolby .ec3 bitstream, audio-only .mp4 or B-Format .wav (FuMa and AmbiX) for subsequent mixing with video files using Dolby Media Generator (sold separately) or other third-party tools
In Dolby's words this package offers a complete solution for creating immersive Dolby Atmos experiences for film and TV pre-production, as well as VR and linear gaming production. Supporting film workflows, you can edit and pre-mix content that will be merged into a larger Dolby Atmos session, and all on a laptop and headphones, instead of tying up an edit room or mix suite.
The Production Suite package will initially be made available exclusively from the Avid Marketplace, priced at $299 and expected to be available by the end of April.
The Dolby Atmos Mastering Suite
In addition to all of the above tools the Mastering Suite provides the Dolby HT-RMU software, for those wanting to create the files required to master content for digital delivery or Blu Ray.
The Mastering suite includes:
Three copies of the Dolby Atmos Production Suite for Mac, (detailed above)

Dolby Monitor Application
One seat of Dolby Atmos HT-RMU Rendering and Mastering Software (for Windows®)

Rendering and Mastering Software for Windows, offloading processing from your main DAW or mixing console for Dolby Atmos rendering
Works with the included Dolby Atmos Panner plugin and Monitor Application for positioning of Dolby Atmos objects
Connect any approved Dolby Atmos panning client (DAW or mixing console) for ultimate workflow flexibility
Supports complex multisystem source/recorder workflows
Allows rendering of Dolby Atmos content to speaker layouts up to 9.1.6, and flexible monitoring options for all standard near-field monitoring environments
Re-render output matrix allows for simple creation of channel-based deliverables from a Dolby Atmos mix, including stems or whole mixes, delivering on the "one-mix" promise of Dolby Atmos
Dolby Atmos Conversion Tool

Convert Dolby Atmos Master Files to different formats (.atmos; .prm; BWF ADM)
Frame Rate conversion workflows for Dolby Atmos master files
Dolby highlight very clearly that, as with theatrical cinematic workflows, mission critical TV workflows will still require the Home Theatre hardware RMU. Due to the processing overheads and complex routing requirements of Atmos the Atmos Production Suite workflow limits Pro Tools' capability to use automatic delay compensation.
The Dolby Atmos Mastering Suite package and the Home Theatre RMU will be available from Dolby's reseller partners, with the software priced at $1000 and expected to be available in May.
To join Resurface and receive monthly updates on items in the newsfeed and new console listings register here.
For more details on the Dolby Atmos Production and Mastering Suites visit Dolby's website here.